WELCOME TO "COLLINE AUX PINS D'OR" MASTIFF BREEDING
The Old English Mastiff : It is a purebred molosser, a large dog who deserves to be known for its kindness.
Our breeding farm is located in the South East of France - more precisely,
in the Languedoc-Roussillon region, in the GARD department (30). Our dogs live freely.
"La Colline Aux Pins d'Or" is a place located whithin a several hectares of pine forest ; a quiet place in the middle of nature that offers our mastiff to evolve in large spaces freely. Our Mastiff are registered in the LOF (the Book of French Origin).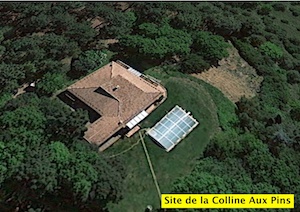 WHAT IS THE LOF ?
It is a book that records all the French breeds of dogs Origins?
Registered in the LOF, our compagnions enjoy the label "dog breed". In the "male" and female" sections of our website, you will find the presentation of each of our Mastiff : pictures, official paper* tha guarantees the purity of the breed and their family tree : the pedigree*.
We have chosen to raise this huge dog in small groups to give it all the attention it needs.
We also made the choice not to participate in any competitions or dog show to preserve our breeders from potential external contamination.
Our Mastiff puppies are registered with the "Société Centrale Canine", which is a French Kennel Club.
IMPORTANT : Before making the purchase of a puppy, the future owners are kindly invited to visit us.
Prior joining their future houses, puppies are vaccinated, wormed and microchipped. We also deliver a health book and a hints booklet.
We are happy to provide real-life pictures to help you make your choice, bearing in mind that no race is perfect, and that impatience is an incredibly bad adviser.
WHY a MASTIFF ?
The Mastiff belongs to the Molosser breed of Group 2.
It is not subject to any specific legislation with the laws about dangerous dogs.
The Old English Mastiff deserves to be known for its great kindness and its good nature.
THE MASTIFF NATURE :
It is a compagnion with calm and affectionate temperament which is actually behind the severe and deterrent appearance of the Mastiff.
It is an easy-going dog who loves family life. Despite its imposing stature, it knows how to be attentive, sweet and delivate with children. The Mastiff is a good watchdog, very protective of its family and property.